Exterior Rendering & Repairs
Exterior Rendering and Repairs by Apex Coating Services
Rendering is the application of render and is usually applied to the external façade of a building. Rendering can also be likened to plastering but for the exterior of a building.
Apex Coating Services undertake many aspects of exterior rendering, from repairs of an existing render surface to the full re-rendering of an entire property.
With 29 years of experience in the industry, Apex is dedicated to working at the highest standards and use only the best rendering materials on your property.
Exterior rendering and repairs are carried out by skilled, qualified, and experienced applicators who have been trained to provide a professional service to all our customers at all times.
We are Trustmark accredited so you can rely on our reliable and trustworthy tradesmen. As part of this scheme, we offer insurance backed guarantees with a solution that is ideal for your requirements and budget.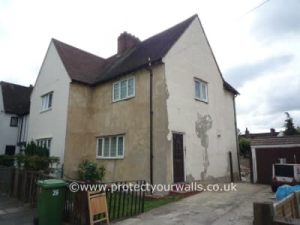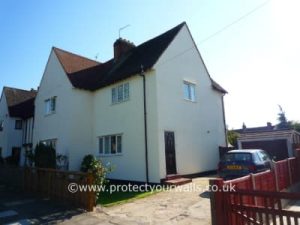 Rendering Repairs

Many properties we work on often require many patch repairs in a single elevation. To carry out these repairs so that they blend into the surrounding surfaces can sometimes be quite challenging. This issue becomes even more difficult if a specific texture has to be matched.
Finding a builder who is skilled at exterior render repairs in this way can be difficult. Our applicators carry out this sort of work most days and are therefore well-practised and skilled at blending in patch repairs.
We always strive to achieve invisible external render repairs and utilising a textured exterior wall coating system can further help to conceal repairs and achieve a uniform appearance.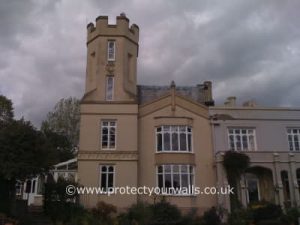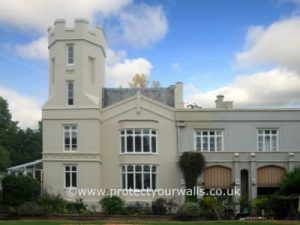 Types of Exterior Rendering
We work on many different types of exterior rendering including:

Sand and cement render – this is the most common form of render and is a mix of sand, cement, and water applied in a scratch coat, top coat, and paint coat to decorate.

Pebbledash – a variation of sand and cement render in which stones are attached to the surface when the finishing coat is still wet.

Roughcast – a type of sand and cement render in which stones are incorporated into the mix and applied to the wall.

Tyrolean – a type of cement render that is crack and weather-resistant to protect your wall.

Spar dash – a variety of sand and cement render in which a scratch coat is applied and stones attached when the finishing coat is still wet.

Monocouche

and through colour – these renders are applied in a single coat for quicker installation and painting to decorate is not required as the render is already

coloured

.

Thin coat acrylic and silicone – these renders are thinner than other renders but are very crack-resistant.

Exterior wall insulating render – polystyrene or phenolic insulation boards are attached to the exterior walls to upgrade the property's insulation.

Lime render – the oldest form of render, this type of render is now rare and most commonly found on conservation projects and listed buildings.
High-Quality Renders
When doing re-rendering we use high-quality renders that are polymer-modified such as GRC render (glass fibre reinforced). This provides excellent adhesion qualities and long lifespans. The incorporation of an alkali-resistant mesh can further add to the strength of the render and increase crack resistance. GRC render is suitable for most substrates.

Scaffolding
Scaffolding will normally be required where large amounts of exterior rendering are needed due to the nature in which the render is applied. We can organise scaffolding and get quotes for a customer if we are requested to do so.
Where less rendering is required, the work can often be completed from ladders (providing access is relatively straightforward) and this helps to keep costs down.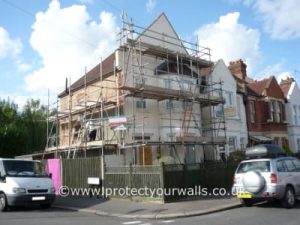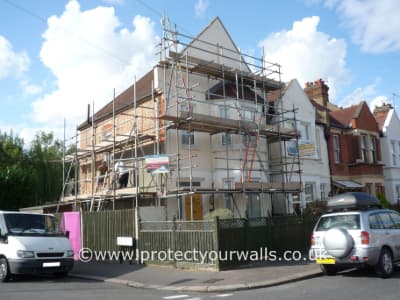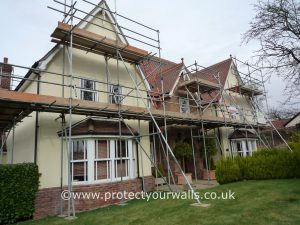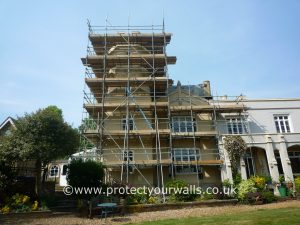 Exterior Rendering & Repairs Project Gallery

View our case studies for examples of exterior rendering and repairs projects we have been involved with.
Contact Us
To learn more about our exterior rendering services or if your property requires new rendering or repairs, contact us now or call 0800 145 5161 for your free quote.