Wall Coating Colours
We can provide a coating of any colour matched from a sample or from our extensive range. Have a look at some of our standard colours.
Andura Colours
Choose from a wide range of colours from Andura.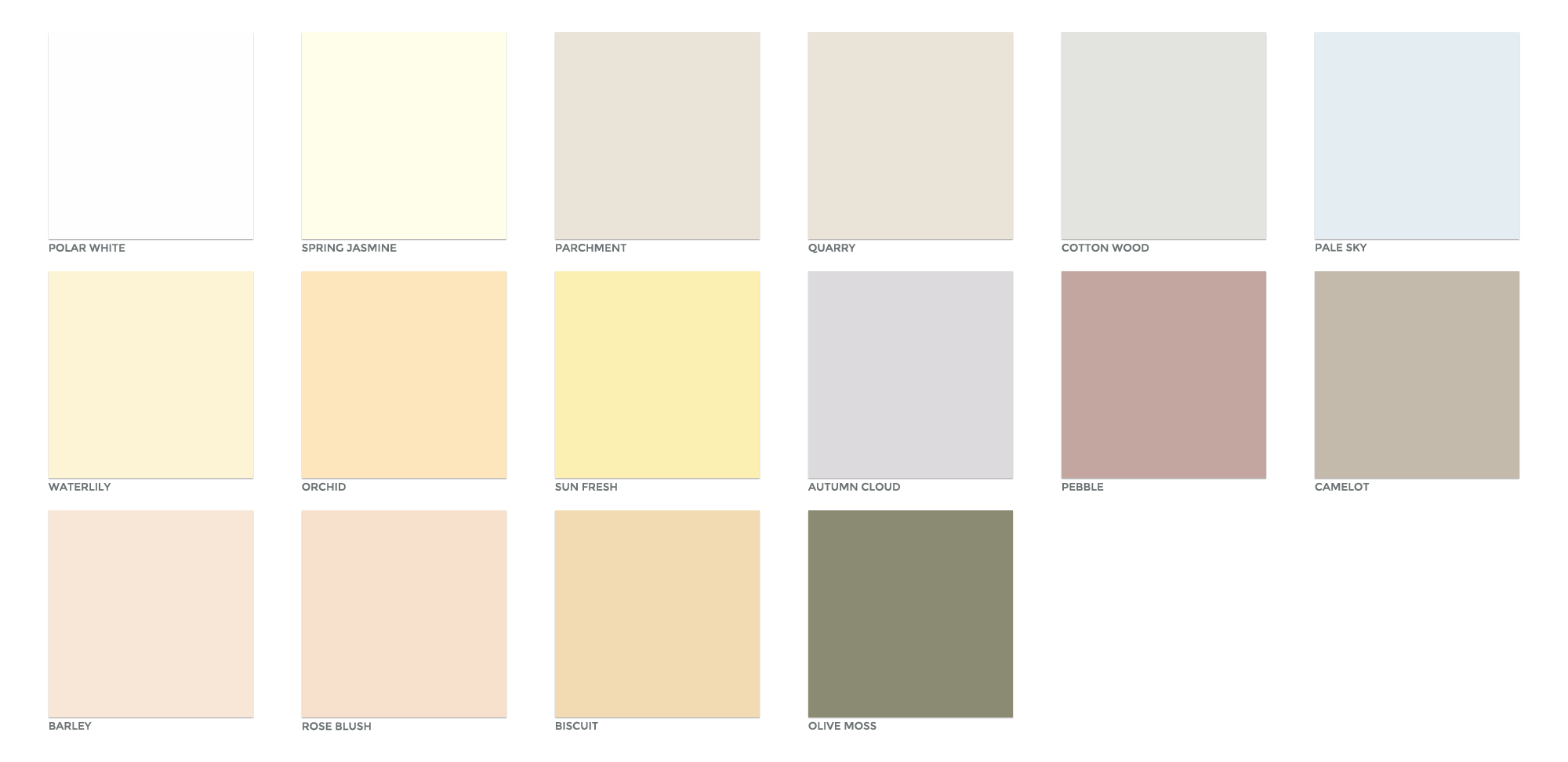 Wethertex Colours
Choose from a wide range of colours from Wethertex.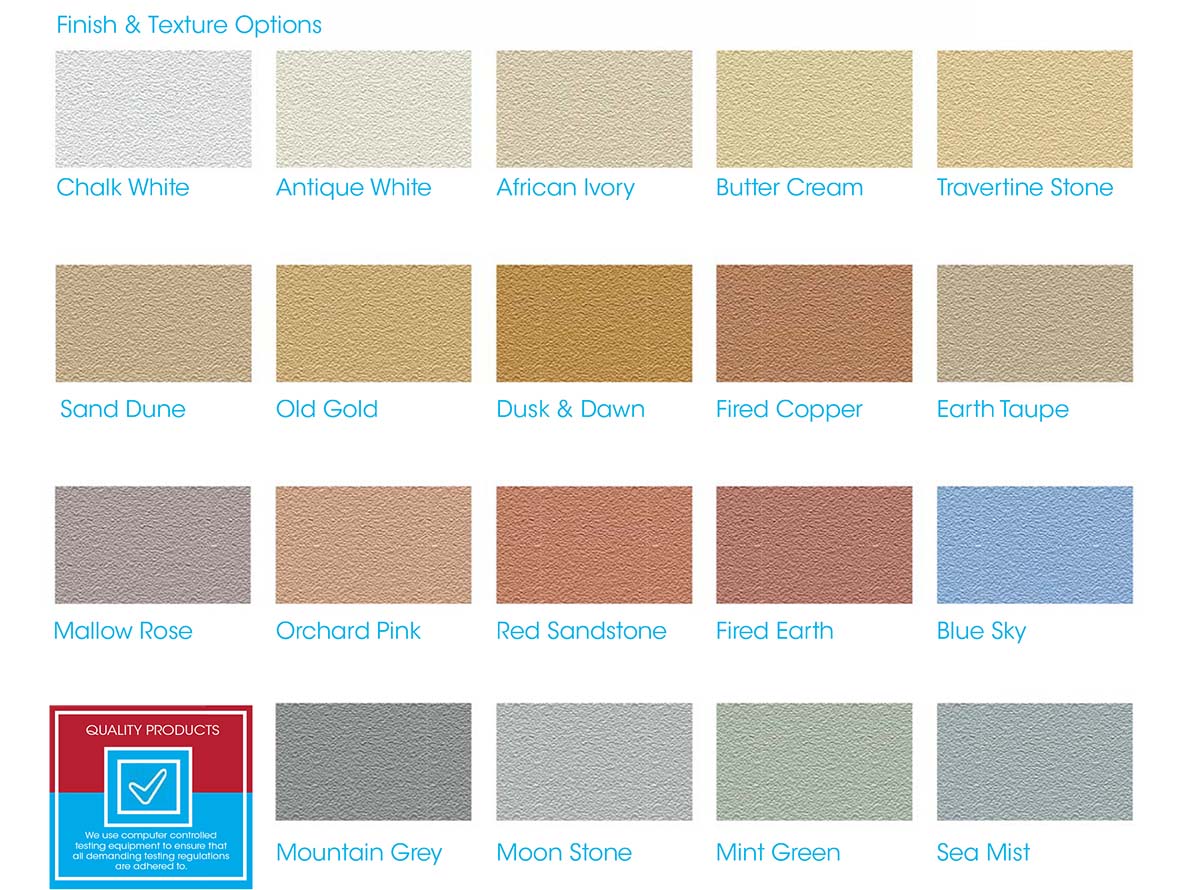 Weber Render Colours
Choose from a wide range of renders and finishes from weber rend.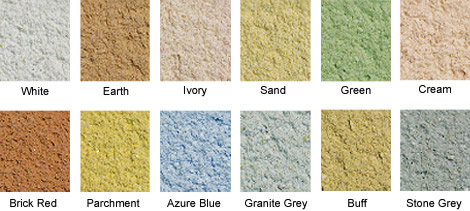 K Rend Render Colours
Choose from a wide range of renders and finishes from K Rend Render.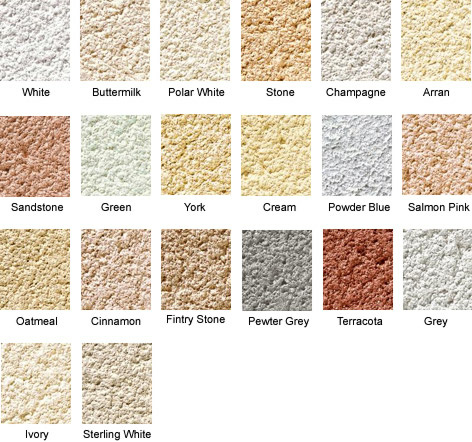 NOTE
It is very difficult to get a precise representation of colours on a computer screen. Colour sample tiles can be shown to you on request and these give a very accurate idea of how each colour actually looks. If our customers do not like any of the standard colours, we are able to have the coating manufactured in any colour from a sample supplied by the customer.
Help Choosing colours
In order to make your home look its best, it is important to choose the right colours. Below are some helpful tips to bear in mind when choosing a colour:
It is important to take in to account your neighbour's homes. Although you have the right to express your individuality, it is not advisable to choose colours that will clash with the neighbourhood. This could make your home stand out in a negative way and may even affect the value of your home.
If brick, pebbledash, stucco or other wall surfaces are part of your home's exterior, it is wise to colour coordinate the rest of the house with them.
Lighter colours are now the preferred choice among most homeowners for the exteriors of their homes. This helps to make homes appear larger and also helps to keep the house cooler in hot weather.
Be sure to take into account the colour of your roof. You probably won't be changing it anytime soon, so make sure the colour or colours you choose for the walls of your home work well with the roof colour.
Today soft contrasts between trim (areas such as window sills, surrounds) and house colours are very popular. These soft contrasts can make your home seem much larger than it actually is.
If you have a great deal of landscaping around your home, be sure to consider how the house colour will coordinate with the landscaping. You don't want to have to replace shrubbery, flowers and trees just to make their colours compatible with your new house colour.
Try not to choose too many different colours for your home, especially if the home is relatively small.