Skip to content
Self Cleaning Paints & Hydrophobic Coatings
Self Cleaning Paints and Hydrophobic Coatings by Apex Coating Services
Apex Coating Services specialises in self-cleaning and hydrophobic exterior wall coatings. Our self-cleaning paints and hydrophobic coatings protect your walls from dirt and grime and make sure they stay clean and dirt-free for longer.
Our self-cleaning and hydrophobic coatings are professionally installed by our highly skilled and experienced team who always provide an outstanding service at all times.
With 29 years of experience in the rendering and coatings industry, we are dedicated to working at the highest standards and only use products from the most established manufacturers in the industry.
We are Trustmark accredited, and as part of this scheme, offer insurance backed guarantees on all projects.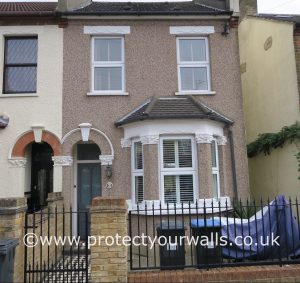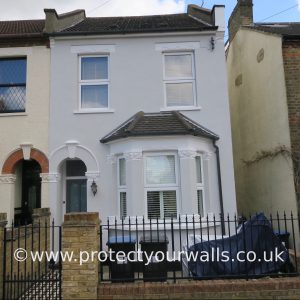 What are Self-Cleaning and Hydrophobic Coatings and How Do They Work?
Self-cleaning paints use ultra-hydrophobic nanotechnology. This technology was developed in the 1960s when the self-cleaning properties of certain insects and plants were investigated. The leaves of plants such as nelumbo (aka lotus) have a "lotus effect" – particles of dirt are collected by water droplets due to the nanoscopic architecture of the surface which reduces the droplet's adhesion.
The hydrophobicity of a surface is often measured by its contact angle. The greater the contact angle the higher the hydrophobicity of the surface. Surfaces with a contact angle of greater than 90 degrees are referred to as hydrophobic. Some plants have contact angles of up to 160 degrees meaning that only 2-3% of a water droplet is in contact. All this results in a self-cleaning effect.
Good quality hydrophobic coatings can create a microscopically textured surface with a contact angle of 140 degrees. This results in rainwater beading up and running across the surface of a façade. These beads of rainwater collect dirt and other contaminants as they run across the surface, cleaning the surface as rain falls.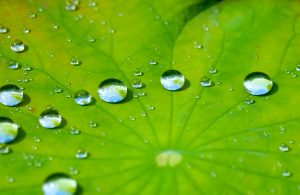 Benefits of Self-Cleaning and Hydrophobic Coatings
Hydrophobic coatings and self-cleaning paints are particularly useful in dirty environments.

They can help to resist the build-up of organic growth on a wall where there may be overhanging trees or plant vegetation close to a wall.

Dirt is simply washed away by the rain.

Hydrophobic coatings and self-cleaning paints reduce maintenance and keep walls clean and pristine for longer

They can be used on a variety of surfaces including cement render, concrete, masonry, brick, and stone.

The coatings can be

applied easily

using a brush, roller, or spray.

They reduce the risk of mould on walls and protect against algae, fungus, mildew, moss, and lichen

Self-cleaning paints are breathable, so they do not restrict the ability of the building to allow air and moisture to escape.

The coatings reduce water absorption and this helps retain the natural thermal efficiency of a wall as the wall is kept dry and so reduces heat loss.

The coatings are water and dirt resistant – water and dirt are prevented from clinging to the surface.

The coatings are hydrophobic so keep dry. Water rolls off the surface, leaving it dry.
Our Quality Coating Products
We work with a number of exceptional self-cleaning paints and superhydrophobic coatings. We use only the most renowned and industry-leading products to ensure a high-quality and long-lasting application. All of the products we use are available in a wide variety of colours to suit a variety of properties and are tailored to your specific needs.
Project Gallery
Browse our gallery to view some of our recent exterior coatings projects or check out our case studies here.
Contact Us to Transform Your Property
To learn more about our hydrophobic coating services or if your property requires a coating of self-cleaning paint, contact us now or call 0800 145 5161 for your free quote.
Contact Us for a
Free Quote
For more information on any of our services or to get a free quote give us a call on 0800 145 5161 or email us at enquiries@protectyourwalls.co.uk
Alternatively, complete our online enquiry form and we will contact you as soon as possible.